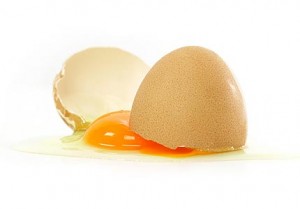 Despite all the bad press over the years, "eggsperts" are finally admitting that perhaps the egg isn't such an "evil" food, something I've never believed.  Unless of course you happen to order a quiche in a restaurant (as I did last night) and forget to ask if it's made with real eggs or yellow liquid out of a carton. It took me 5 minutes to realize my error, at which time I promptly asked the question, got my response and changed my order.  As a Naturopath, I'm very conscious about what foods I put in my body – fake eggs are not real food!
Eggs are one of my favorite foods as long as they come straight from the farm and are laid by chickens that are allowed to roam in the grass where they can eat bugs, worms etc.  These nutrition-rich natural eggs with golden-yellow yolks and fresh flavor are remarkably different from the supermarket variety.
Although eggs do contain cholesterol, they are also high in phosphatides (an oily organic compound that makes up cell membranes) and lecithins (essential for metabolizing fats), so they don't add to the risk of hardening of the arteries. They are also a rich source of essential nutrients (many of which we become deficient in as we age) along with high quality protein and riboflavin. Not to mention they are easy and quick to use in all manner of recipes.  They beat a McDonald's hamburger any day!
You may, however, be surprised to learn that not all eggs are equal, even when they're marked "organic." The best eggs come from family farms where chickens are raised on well-managed, rotating pastures.  Next best are those where chickens have ample space and are encouraged to go outdoors to well-managed runs or pastures. Eggs that I stay away from are ones that come from the industrial-scale egg operations where chickens are confined in cramped quarters with no access to the outdoors.
If you are an egg lover and are interested in the rankings of various organic eggs, go to http://www.cornucopia.org/organic-egg-scorecard.  You might be surprised.  I know I was!