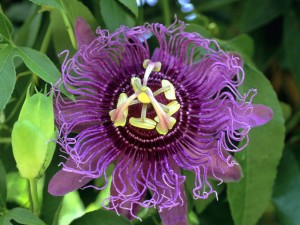 No, it doesn't have anything to do with "passion in the bedroom" or anywhere else! It has to do with calming you down. Passionflower has been used to treat nervous restlessness for over 200 years.  It slows the pulses and sedates. The herb works by increasing levels of the chemical GABA (gamma aminobutyric acid) in the brain. GABA lowers the activity of some brain cells, making you feel more relaxed.
Insomnia.
Passionflower has been shown in numerous studies to be a great sleep aid. It relaxes the nervous system without causing drowsiness the next morning. It actually works with (rather than against) the body's natural sleep/wake cycle.
Restless Leg Syndrome and Nerve Pain.
Passionflower has also been shown to be effective for RLS, neuralgia and shingles.
High Blood Pressure due to Stress and Anxiety.
Because of its calming effect, passionflower helps reduce high blood pressure.
Anxiety.
A 2001 issue of the Journal of Clinical Pharmacy and Therapeutics published data from a small double-blind study with 32 people suffering from general anxiety disorder. Participants in the study received a daily dose of either a passionflower liquid extract (45 drops) or 30 mg of a common anti-anxiety drug, oxazepam. Both groups displayed a significant decrease in their anxiety symptoms after four weeks but those taking passionflower did NOT report any severely impaired job performance, while 44 percent of the patients taking oxazepam did. 
PMS and Menopause. Passionflower can help to relieve the anxiety, irritability, depression and cramps that are often associated with menopause and PMS.
Use: Passionflower can be taken as a capsule (400-500 milligrams), a tincture (30-40 drops in a small amount of water) or a herbal infusion (pour a cup of boiling water onto 1-2 teaspoonfuls of the dried herb and leave to infuse for 10-15 minutes) two to three times a day. You will often find it in teas where it is mixed with other calming herbs such as chamomile, peppermint and catnip.
It is not recommended for pregnant women or children under two. Nor should it be taken with tranquilizers or sedatives since it may intensify their effect.  Adults over 65 and children between the ages of two and 12 should only take low-strength preparations.
All material is provided for informational or educational purposes only. Please consult a physician regarding the applicability of any opinions or recommendations with respect to your symptoms or condition.