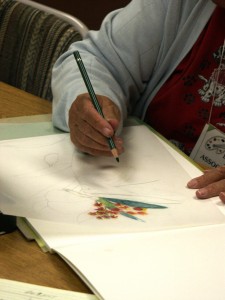 I recently spent some time visiting assisted-living facilities and nursing homes.  The event that prompted this "adventure" was my mother having a stroke and becoming visually impaired. Unfortunately this necessitated her no longer being able to live on her own and therefore having to make other arrangements.
What struck me as I was investigating these facilities and talking to some of the residents was how disengaged in life many of the folks had become.  The "why" I discovered was that fundamentally they believed they had nothing left to live for.
Some hadn't even begun to empty out their "bucket lists" –  do those things they had always dreamt about.  When I commented that it was never too late, the majority said, "Oh no, I'm too old."  What a sad statement.
I don't believe we're ever too old to experience the joy of doing something we truly love, even if it's just a small piece of it.  For example, a client once told me that, at the age of 75, he was far too old to even contemplate becoming an architect, his life's dream.  Perhaps he wasn't about to go back to school to do the requisite study but does that mean he couldn't live out his dream in another way.  He could have opted to volunteer at an architect's office or do some simple online CAD training.  Anything that was related to architectural work.
If you need some inspiration to follow your dreams, then maybe these examples might spur you on:
Benjamin Franklin, at age 78, invented bifocal spectacles.
Mary Fasano, age 89, earned her undergraduate degree from Harvard.
Architect Frank Lloyd Wright designed the Guggenheim Museum at 90 years of age.
David Ben-Gurion, the first prime minister of Israel, taught himself ancient Greek when he was at an advanced age just so he could master the classics.
Ages 35-55 might be the peak times for creativity in many fields but people in their 60s and 70s, though slower, are as productive as they were in their 20s. So if you've given up because you think you're too old, think again, get rid of that limiting belief and GO FOR IT!
Cellist Pablo Casals was 91 when a student asked, "Master, why do you continue to practice?" His reply, "Because I am making progress."