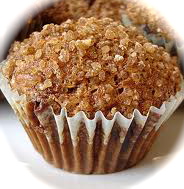 One Easy Way to Get Rid of Extra Calories
Fiber is one of the best things you can eat if you are watching your weight. It acts like a broom in your digestive tract sweeping out sugars and carbs together with their calories.
There are two types of fiber: soluble and insoluble.
Soluble fiber expands as it combines with fluids and makes you feel full.  It slows digestion and the absorption of simple carbohydrates (like sugar), to prevent blood sugar spikes. Good sources: Beans, apples, psyllium husks, flax seeds and oats.
Insoluble fiber provides food for the colon's good bacteria and helps to keep bowel movements regular. Good sources – Brown rice, nuts, seeds, celery, most fruits and vegetables
The recommended amount  is about 25-30 grams of fiber a day, which is more than double what the average American gets.
A study conducted by David J. Baer of the US Dept. of Agriculture's Human Nutrition Research Center found that women who doubled their fiber intake from 12 to 24 grams a day, cut their daily calorie absorption by 90 calories. That's a 9.4lb weight loss in a year. Add in exercise and watch the pounds drop off.
Tip: Because fiber binds to water, you will need to increase your water intake if you increase your daily fiber. Be aware of not increasing your intake too rapidly as gas or diarrhea may result.
Here's my favorite high-fiber recipe.  It's quick, easy and great for breakfast-on-the-go!
Orange Bran Flax Muffins
Ingredients
11/2 c oat bran
1 c all-purpose flour
1 c flaxseed, ground
1 c wheat bran
1 Tbsp baking powder
1/2 tsp salt
2 oranges, quartered and seeded
1 c brown sugar
1 c buttermilk
1/2 c canola oil (or butter)
2 eggs
1 tsp baking soda
11/2 c golden raisins
1. Preheat the oven to 375 F. Line two 12-cup muffin pans with paper liners or coat the pans with nonstick spray. In a large bowl, combine the oat bran, flour, flaxseed, bran, baking powder, and salt. Set aside.
2. In a blender or food processor, combine the oranges, brown sugar, buttermilk, oil, eggs, and baking soda. Blend well.
3. Pour the orange mixture into the dry ingredients. Mix until well blended. Stir in the raisins.
4. Divide the batter evenly among the muffin cups. Bake for 18 to 20 minutes or until a toothpick inserted in the center comes out clean. Cool in the pans for 5 minutes before removing to a cooling rack.
Makes 24
Per muffin: 186 cal, 4 g pro, 30 g carb, 8 g fat, 1 g sat. fat, 18 mg chol, 3 g fiber, 140 mg sodium
Recipe courtesy of Flax Council of Canada and Saskatchewan Flax Development Commission
Flax Facts: Use ground flaxseed; it provides far more nutritional benefits than does the whole seed.